Amazing Facts History of Eden Gardens Stadium
Eden Gardens is a cricket stadium located in Kolkata, India. It is one of the oldest and most iconic cricket grounds in the world, known for its rich history, passionate cricket culture, and massive seating capacity. So let's see the Amazing Facts History of Eden Gardens Stadium.
Details of stadium
Location – Kolkata, India
Establishment – 1984
Capacity – 66,000
Owner – Cricket Association of Bengal (CAB)
History of Eden Gardens
Eden Gardens was established in 1864 and is named after the sister of Lord Auckland, who was the Governor-General of India at that time. The first recorded cricket match was played at Eden Gardens in 1865.
In 1911, the Calcutta Cricket and Football Club (CC&FC) took over the management of Eden Gardens and started developing it as a cricket ground. The first cricket test match was played at Eden Gardens in 1934 when England toured India. The ground also hosted its first One Day International (ODI) match in 1987 when India played against Pakistan.
The stadium has a seating capacity of over 66,000, making it one of the largest cricket stadiums in the world. In 2011, Eden Gardens was one of the venues for the ICC Cricket World Cup, and it underwent major renovations to upgrade its facilities, including the construction of new stands, installation of floodlights, and improvement of the pitch and outfield.
Eden Gardens is not just a cricket ground but also holds cultural significance in the city of Kolkata. It has been a hub of cricketing and cultural activities, and the stadium has hosted concerts, political rallies, and other events apart from cricket matches. It continues to be a revered venue for cricket matches and remains an important part of the cricketing legacy in India.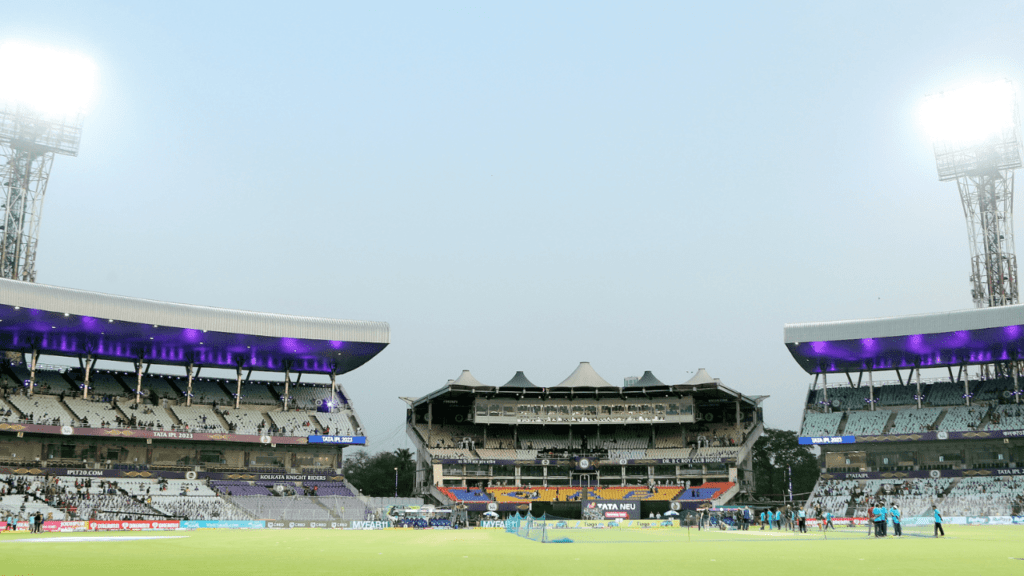 Amazing facts about Eden Gardens
1. V.V.S. Laxman's 281 against Australia
In 2001, during a test match between India and Australia, V.V.S. Laxman played an epic innings of 281 runs at Eden Gardens. With Rahul Dravid, Laxman helped India stage a remarkable comeback from follow-on to win the match, defying all odds. This inning by Laxman is still remembered as a historic moment at Eden Gardens and in the history of Indian cricket.
2. Sachin Tendulkar's first Test century
In 1990, a young Sachin Tendulkar scored his first Test century at Eden Gardens against England. At the age of 17 years and 107 days, Tendulkar became the youngest Indian batsman to score a century in Test cricket. Tendulkar's legendary journey in international cricket began with this moment.s
3. India's first-ever Test victory over South Africa
In 2010, Eden Gardens witnessed India's first-ever Test victory over South Africa. It was a historic moment for Indian cricket, as the team defeated South Africa by an innings and 57 runs. Harbhajan Singh and Pragyan Ojha played crucial roles in the victory, which was a significant milestone for Indian cricket.
4. Kolkata Knight Riders winning the IPL
Eden Gardens has been the home ground for the Kolkata Knight Riders (KKR), a franchise in the Indian Premier League (IPL). KKR won the IPL title at Eden Gardens in 2012 and 2014, creating memorable moments. With its passionate crowd and electrifying energy, the stadium atmosphere during the IPL matches has been a highlight of the tournament.
5. Sunil Gavaskar's debut century
In 1971, Indian cricket legend Sunil Gavaskar made his Test debut at Eden Gardens against the West Indies. Gavaskar became the first Indian batsman to score a century in both innings of his debut Test match with a score of 116 runs. One of cricket's greatest batsmen, Gavaskar began his legendary career at Eden Gardens.
6. Anil Kumble's 10-wicket haul
In 1993, Indian spinner Anil Kumble achieved a historic feat at Eden Gardens during a Test match against Pakistan. Kumble took all 10 wickets in the second innings of the match, becoming only the second bowler in the history of Test cricket to achieve this rare feat. Kumble's remarkable performance at Eden Gardens is etched in cricket history as one of the most memorable bowling performances of all time.
7. India's first-ever day-night Test match
In 2019, Eden Gardens hosted India's first-ever day-night Test match against Bangladesh. A pink-ball Test match was played for the first time in Indian cricket history. Eden Gardens was packed with spectators, showcasing the growing popularity of day-night cricket.
8. Rahul Dravid's epic double century
In 2001, during the same Test match in which V.V.S. Laxman played his historic innings, Rahul Dravid also played a memorable inning at Eden Gardens. In the same match against Australia, Dravid scored 180 runs, supporting Laxman in their record-breaking partnership of 376 runs. "The Wall"'s innings was crucial to India's historic comeback win, and it is remembered as one of his finest innings.
9. Kapil Dev's 175 against Zimbabwe
In the 1983 Cricket World Cup, during a crucial match against Zimbabwe, Indian cricket legend Kapil Dev played a sensational innings of 175 runs at Eden Gardens. Kapil Dev's inning played importance in India's victory, as he single-handedly rescued India from an unpredictable position and led them to a thrilling win. This inning by Kapil Dev is still considered one of the greatest innings in ODI cricket history and is cherished by Indian cricket fans.
(If you want to see this inning, just watch the 83 movie you won't be disappointed.)
10. India's first-ever Test win against England
In 1952, Eden Gardens witnessed India's first-ever Test victory against England. It was a historic moment for Indian cricket, as India won the match by 7 wickets. Vinoo Mankad, one of India's all-time greats, played a crucial role in the victory with his all-round performance, taking 8 wickets and scoring a century. A significant milestone in Indian cricket was India's first Test win against England at Eden Gardens.
–
If you enjoy reading it, comment below and leave your suggestions and any other topics that I should write about in the comments. Don't just read alone share it with others in this way everybody will enjoy it. I will be back soon with another game or related info. Till then…
—DHANYAVAAD—
If you are not into sports but into gaming, then you can check out my other blog site – GAMEREX.FALLINSPORTS
For information Regarding Education and Studies, you can check out – smartschool.infolips.com
Amazing Facts History of Eden Gardens Stadium
Amazing Facts History of Eden Gardens Stadium