After the crazy double centuries made by two of India's young talents against Bangladesh and New Zealand. So now let's see the List of Players Scored Most Double Centuries in ODI.
Rank
Player Name
Team
Score (balls)
4s
6s
Against
Date & Place
1.
Rohit Sharma
India
264 (173)
33
9
Sri Lanka
13 Nov 2014
(Eden Gardens, Kolkata)
2.
Martin Guptill
New Zealand
237* (163)
24
11
West Indies
21 Mar 2015
(Westpac Stadium, Wellington)
3.
Virender Sehwag
India
219 (149)
25
7
West Indies
8 Dec 2011
(Holkar Cricket Stadium, Indore)
4.
Chris Gayle
West Indies
215 (147)
10
16
Zimbabwe
24 Feb 2015
(Manuka Oval, Canberra)
5.
Ishan Kishan
India
210 (126)
24
10
Bangladesh
10 Dec 2022
(Zahur Ahmed Chowdhury Stadium, Chattogram)
6.
Fakhar Zaman
Pakistan
210* (156)
24
5
Zimbabwe
10 July 2018
(Queens Sports Club, Bulawayo)
7.
Rohit Sharma
India
209 (158)
12
16
Australia
2 Nov 2013
(Chinnaswamy Stadium, Bangalore)
8.
Rohit Sharma
India
208* (153)
13
12
Sri Lanka
13 Dec 2017
(IS Bindra Stadium, Mohali)
9.
Shubman Gill
India
208 (149)
19
9
New Zealand
18 Jan 2023
(Rajiv Gandhi International Cricket Stadium, Hyderabad)
10.
Sachin Tendulkar
India
200* (147)
25
3
South Africa
24 Feb 2010 (Captain Roop Singh Stadium, Gwalior)
List of Players Scored Most Double Centuries in ODI
Rohit Sharma's Double Ton against Sri Lanka at Eden Gardens
This was the inning when he showed why he is called "the Hitman". He is the only one which has this record for scoring 3 double centuries in the history of ODI cricket.
In that match, Rohit Sharma scored 264 runs in 173 balls with 33 fours and 9 sixes and became the first batsman to reach the individual score of 250 runs in an ODI.
That inning took team India's score to 404 runs, which is one of the highest scores in the ODI.
MARTIN GUPTILL Second HIGHEST INDIVIDUAL SCORER IN ODI
On 15th March 2015, in the match against West Indies, he showed his ultimate class and scored a double century.
This New Zealand batsman exploded on the West Indian bowlers and scored 237 runs and stayed not out till the end of their inning and helped the team to set a huge target of 393/6 in the ICC World Cup 2015.
Virender Sehwag the Second to Score a double century
Before Virender Sehwag's this great Inning, Master-blaster – Sachin Tendulkar was the only batsman to reach 200 individual scores. But after this Inning, he became the second batsman to reach a double century in the history of cricket in an ODI.
Chris Gayle Rained Sixes at Manuka Oval (2015)
Is any list containing huge runs can be completed without including HIS name in it? We know him because of his huge hits and high scores when it starts showering sixes in the stadium.
Something similar yet the best inning of his career was played against Zimbabwe when he scored a double century and made his name into this list.
Ishan Kishan the Fastest to Score a "Double Century"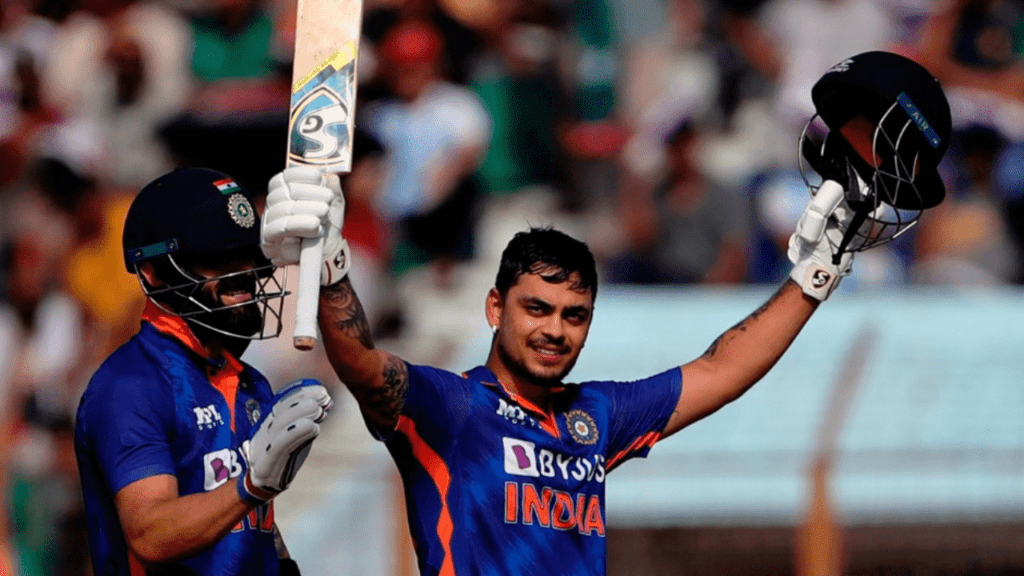 Ishan Kishan made history by becoming the seventh batsman in one-day international cricket to hit a double century and in fact, he became the fastest to achieve that in ODI cricket.
This left-hander reached his double century in 126 balls after hitting nine sixes and 24 fours. With that, he joins the previous group of Rohit Sharma, Virender Sehwag, and Sachin Tendulkar and became the 4th Indian to have scored 200 runs in ODI.
Fakhar Zaman dominated against Zimbabwe's bowling
He started that match against Zimbabwe at Queens Sports Club and didn't stop till the very end. He was partnered with Iman-ul-Haq who scored a century and was taken out at the 42nd over. Even if he was eliminated Fakhar kept on attacking and scored 210 runs while being not out till the end which was the team's score at 399/1.
One of the best innings that Pakistan could think of. Just pure domination. Pakistan won that match by a huge margin because the whole Zimbabwe team was eliminated with a score of 155 runs on the board.
Shubman Gill Showed his Class against New Zealand
Now, let's talk about the latest entry in this small family of double hundred scorers and the one who inspired the idea of writing this post.
With that being said he became the youngest player to score a double century and also joins the above-mentioned family by becoming the fifth player to do so in ODI cricket history.
He made 208 runs in 149 balls a great feat but he also become the fastest player to reach his 1000 runs mark. What a player.
He reached his double century by hitting three back-to-back sixes, can you imagine it? It was a great inning to watch.

SACHIN TENDULKAR the first to Score a double century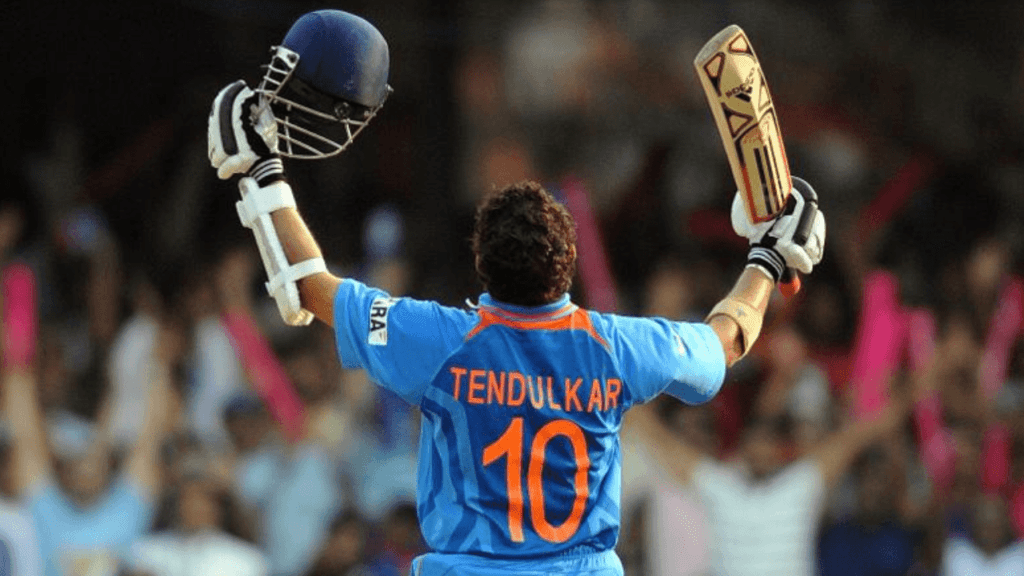 What to say about this player. He is well-known on his own and doesn't need any introduction. So, the fact is that he was the first-ever player to reach a double hundred in ODI cricket. He did so in the match against South Africa and scored 200 runs being not out till the end.
He played a splendid inning of exactly 200 runs and took the team score to 401/3. It was a huge score made by the Indian team.
While chasing this huge score AB De Villers put up a good fight and scored a century but was not enough to save the team and the whole team got eliminated at the score of 248 runs.
This inning of Sachin Tendulkar is well known to everyone because he was the first one to do so and in 147 balls with 25 fours and 3 sixes.
This was the List of Players Scored Most Double Centuries in ODI.
This feels awesome how there are in total of 10 records from which the same person is in this list 3 times which makes a total of 8 players. Yet from these 8 top players, there are 5 Indian players, which shows the domination of Indian players when it comes to cricket.
If you enjoy reading it then, comment down below and leave your suggestions and any other topics that I should write about in the comments.
Don't just read alone share it with others in this way everybody will enjoy it. I will be back soon with another game or related info. Till then…
—DHANYAVAAD—
IF YOU ARE NOT INTO SPORTS BUT INTO GAMING, YOU CAN CHECK OUT MY OTHER BLOG SITE – GAMEREX.FALLINSPORTS
List of Players Scored Most Double Centuries in ODI
List of Players Scored Most Double Centuries in ODI