Kushti – Indian Wrestling what is Kushti? History Rules
It is a style of Indian wrestling that we call by different names like 'Pehlwani', 'Dangal', etc. So, here's some more info on Kushti – Indian Wrestling what is Kushti? History Rules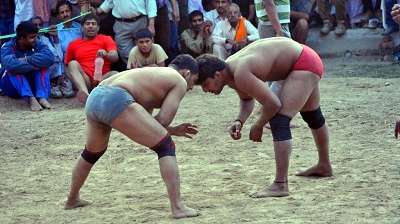 It is traditional and an old sport played on a ground which is called 'Akhada'. This is a place where they learn and compete against each other.
And the person who teaches them is called their trainer or ustad. This is a pretty popular sport not only in India but also in neighboring countries.
History of Kushti – Indian Wrestling
It is a traditional form of Indian wrestling which was established many centuries ago in Persia and to be particular, during the 16th century Mughal Era.
In the late 17th century Ramadasa the "Father of Indian athletics" traveled around the country to encourage people to do physical activity to pay respect to the great god Hanuman.
It is an old sport and still going on bypassing the knowledge of it by our previous generation.
How to play Kushti – Indian Wrestling
It is a game played in an area called Akhada filled with clay or 'Mitti' which represents mother earth and they pay respect to it because this is their training ground, their stadium, and their life is dedicated to it.
Before any game, they put mitti on their bodies and then they begin their Kushti.
It is a game where you have to touch both the shoulders of your opponent on the ground to win. It may sound simple but it is not.
You can't kick or punch your opponent but you can use body locks, throws, submission holds, pins, etc.
There are two most famous techniques which you might have heard. Dhobi Pachad (Shoulder Throw) and the Kasauta (Strangle Pin). In other countries, they use another thing called triangle chokes and all.
Rules of Kushti
1. The match is played on the ground called akhada and both players are introduced.
2. It can be circular or square-shaped with at least a distance of 14 feet.
3. Both players start by throwing some mitti on each other's bodies to get a grip on them.
4. Matches are typically 20-30 minutes but they can vary in the different places.
5. You can't kick or punch your opponent.
6. players can go out of the ring boundary but they have to play inside the ring.
7. The players can be victorious when they manage to put both the opponent's shoulders on the ground simultaneously.
8. Players can also win by submission knockouts.
List of Top 10 greatest wrestlers of India:
Jatindra Charan Guha (1892-1972) – First Asian to win World Light Heavyweight Championship in US 1921
Udey Chand (1935 – present) – First Individual World Championship Winner from Independent India
Bishambar Singh (1940 – 2004) – World Championship 1967 New Delhi, Asian Games 1966 Bangkok
Deepak Punia (1999 – present) – Won Silver Medal at 2019 World Wrestling Championship in freestyle 86 kg
Vinesh Phogat (1994 – present) – Rank 3rd in World Wrestling Championship Women's freestyle, 1st and 3rd in Asian Games
Bajrang Punia (1994 – present) – 2nd and 3rd places in World Championships, 1st and 2nd positions in Asian Games
Khashaba Dadasaheb Jadhav (1926 – 1984) – Bronze Medal winner at 1952 Summer Olympics in Helsinki
Sakshi Malik (1992 – present) – Bronze in Rio de Janeiro Olympics, 2md and 3rd positions in Asian Games, Gold and Bronze in Commonwealth Games
Yogeshwar Dutt (1982 – present) – won Gold and Bronze in Asian Games, Bronze in 2012 London Olympics
Sushil Kumar (1983 – present) – Won Bronze and Silver in 2008 Beijing and 2012 London Olympics respectively, Gold in World Championships 2010 Moscow, Goldin Commonwealth Games in 2010, 2014, and 2018
You can check out more about Indian wrestlers on – the Wrestling Federation of India
My Thoughts
To be honest, I was not into wrestling, I have watched WWE but never watched any Indian-style wrestling match, but while writing about it, I searched and learned how strictly they follow their diet and training. They give their whole life to it practicing for hours and days.
Still, not many of them get any attention. Some of them are having financial issues even though they played for our country which was the saddest thing I read about them.
We must give attention to different sports as they need them more than the sports which are well known by everyone.
So, I guess that's all for today. If you enjoy reading it then comment down below and leave your suggestions and any other topics that I should write about in the comments.
Don't just read alone share it with others in this way everybody will enjoy it. I will be back soon with another game or related info. Till then…
—Dhanyavaad—
Tags: Kushti – Indian Wrestling what is Kushti? History Rules, Kushti – Indian Wrestling what is Kushti? History Rules, kushti akhara wrestling, kushti final match time, kushti game, kushti game information in English, kushti game meaning, kushti ka game, kushti wrestling rules, kushti wrestling training, kushti information in English, kushti rules, kushti sport game, kushti sport India, best wrestlers in India, india top 10 wrestlers, top 10 arm wrestlers in India, most famous indian wrestler, top 10 wrestlers india top 10, top ten wrestlers in India, who are the top 10 wrestlers