There have been arguments about the different abilities between right and left-handed people and this applies to cricket too. Studies show that about 10-13% of the world population is left-handed. Yet, in the world of cricket, nearly 30% of the batsmen are left-handed and nearly a 1/4 of the bowlers are left-handed. So let's understand Why Left-handed Bowlers work better than Right.
The reason for this is that a left-handed player tends to change the game like no other for example Brian Lara, Wasim Akram, or Zaheer Khan, and even more at our current time.
However, a few cricketers just use their left hand for the game and use their right hand for normal work. For example, Brian Lara is right-handed off-field and just prefers to bat left-handed. Other examples can be Deepti Sharma of the Indian women's cricket team and Sourav Ganguly of the men's team bat with their left and bowl with their right. Isn't it a unique thing to have domination and control over both of your sides.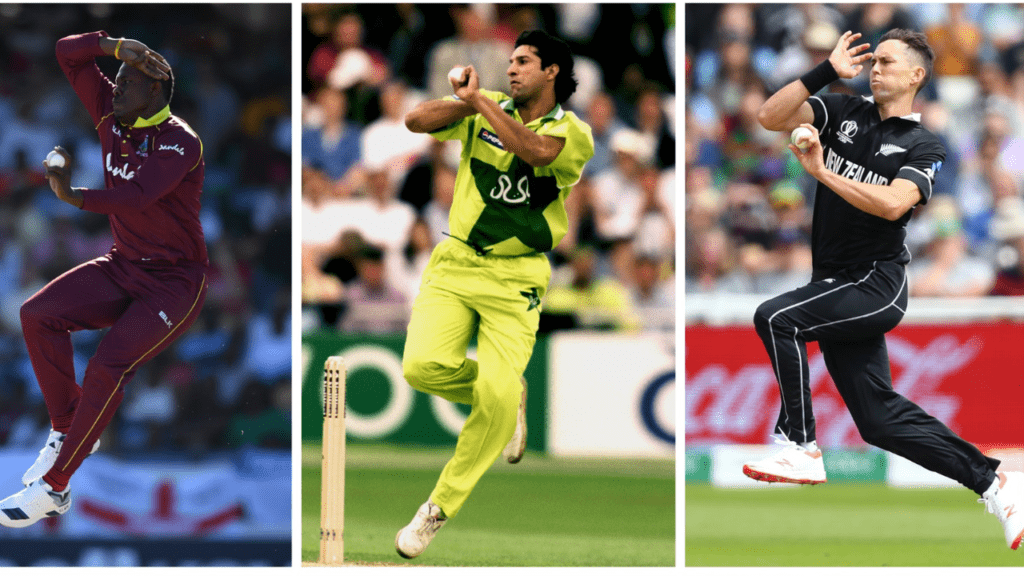 Why Left-handed Bowlers delivers better against Right-handed Batsman
A majority of batsmen in international cricket are right-handed and are used to angles, curves, spins, and swings by right-handers. Hence being a left-handed player gives an edge over right-handers.
A left-handed bowler can throw other players off their game by causing them to misjudge their own pace and style.
To face left-handed bowlers, the right-handed batsman has to adjust their stance to get a full view of the bowler.
Why you ask? Here's your answer for that – the bowler is bowling from the opposite side, so the batsman has to open up his stance a bit or the batsman won't get the full view of the ball. This starts the batsman's discomfort.
Another thing is that a simple straight ball looks like a curved ball since the bowler is bowling at a slant position across the batsman. By the time the ball reaches the batsman, it will be too late to correct for the misassumption.
The ball is often pitched outside the off stump by left-handed bowlers. These balls may either turn in or hold their line. For batsmen, both can prove lethal. The element of surprise and the unexpected angles do cause a problem for batsmen when a lefty is bowling.
Let's go deeper into it.
A left-arm unorthodox spin or a Googly!
The left-arm unorthodox spin and the Googly (or Doosra) are basically the same kinds of ball action but by a left-handed bowler and a right-handed bowler, respectively. The ball turns from left to right after pitching for the left-handed spinner, and from right to left for the right-handed (These Left and rights are too much for me now).
This movement is untypical for the left-handed bowler. Many of the left-arm unorthodox spin bowlers use their wrist spin to achieve this kind of ball action. The right-hand off-spin bowler achieves the same effect, but with less turn since they do not usually use just the wrist.
The left-arm unorthodox spin sees results most often when the left-handed bowler surprises the batsman in between regular balls. Similarly, the Googly also is used to maximum effect when it is used in small quantities (Basically to surprise as I said before).
LBW (Leg Before Wicket)
As right-handed batsmen have gotten used to the right-handed bowlers that they have perfected the line and length to attack the bowlers but that is not the case with the left-handed bowler. As the ball comes at unexpected angles it increases the chances of LBW.
List of Top 10 Best Left-Handed Bowlers:
Wasim Akram
Alan Davidson
Derek Underwood
Chaminda Vaas
Hedley Verity
Mitchell Johnson
Rangana Herath
Zaheer Khan
Garfield Sobers
Mitchell Starc
So, I guess that's all for today. It was something different than usual so look forward to some different facts about sports in the future. If you enjoy reading it then comment down below and leave your suggestions and any other topics that I should write about in the comments.
Don't just read alone share it with others in this way everybody will enjoy it. I will be back soon with another game or related info. Till then…
—DHANYAVAAD—