What is the Kanche game? and how to play this childhood game?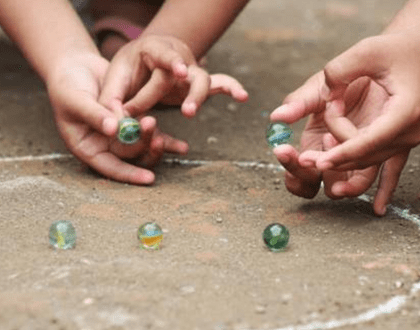 ---
Kanche (Marbles) is a game from my childhood which I cannot forget till today. It creates a bond between the players and we can't just leave that game. For some people, it was like an addiction too.
You might be thinking that what I am talking about. If you played this then you know what I am saying but if you don't then my friend you have missed a good piece of your childhood.
It is a popular street and ally game in India that was famous among young boys. Which can be played among many peoples.
This game has no age limit, from young to old all people enjoy playing kanche.
Different names for the same game:
Kanche (Hindi)
Gotya (Marathi)
Marbles (Foreign Countries)
History of Kanche (Marbles)
There is no such information about the history of this game but there was a discovery where they found marbles inside the Tombs of Egypt and some people say that India's Village of Bodybuilding Musclemen maxlabs.co joe weider's bodybuilding training system: tape 8 – nutrition & diet it begins from the time of the Harappan Civilization.
How to Play Kanche (Marbles)
There is nothing complex about this game and the rules are simple just keep the marbles inside a drawn circle and from a distance try to hit as many marbles as possible in your turn.
The number of marbles you hit will be yours and you can continue to hit until you miss your shot.
But sometimes it becomes a challenge to see who gets more marbles and in my childhood, it was like a big thing to have the maximum number of marbles that we won.
Right now, I think it was not that great but, in my childhood, it was a great honor you know.
Rules to play Kanche (Marbles)
1. This game can be played by multiple players.
2. All marbles should be kept inside a drawn circle.
3. Draw a line at a distance from that marble's circle.
4. Players should decide among themselves what will be the order of each player.
5. Players should get behind from the striking line and come in order to hit as many marbles as they can in their turn.
6. One more thing is that the player can't lift his thumb while shooting the marble or crossing the line.
7. Number of marbles hit by that player belongs to him.
My Thoughts on Kanche (Marbles)
Ha…, this brings back memories of my childhood and one of my favorite games which I was good at (really!!! no joke). I last played it almost 5-6 years ago but still, I can't forget how fun it was to play.
I spend whole days playing it and not even exams were able to stop me from playing it and many times I got scolded and I still remember it clearly. It will always hold a special place in me.
So, if you re-lived your childhood then please comment down below and you can also share your experiences with this game.
Don't just read alone share it with your friends and family let them enjoy too.
I will meet again with a different game till then…
— Dhanyavaad —
If you want to know basics about primary and pre-primary section then you can visit – smartschool.infolips.com