The story, facts, details about Wankhede stadium
In India, there are many iconic stadiums but Wankhede stadium is one of the best and well known nationally and internationally. Many great matches were played in this stadium.
So, here are some facts and moments about Wankhede Stadium
Stadium Details:
Location: D Road, Churchgate, Mumbai, Maharashtra.
Establish Year: 1974
Owner: Mumbai Cricket Association
Capacity: 33,482 fans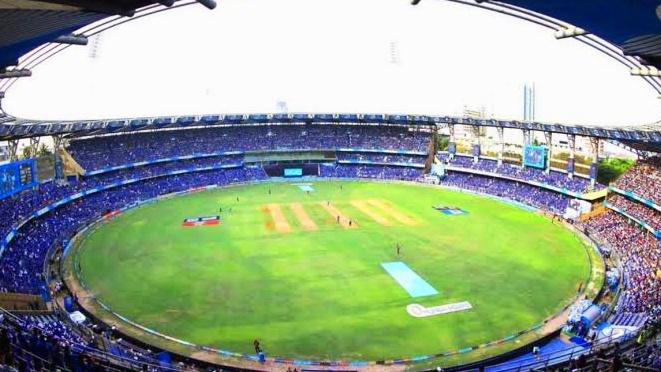 Facts about Wankhede Stadium:
1. Wankhede Stadium was built in 1974 and named after the former president of Mumbai Cricket Association S.K.Wankhede.
2. The first test match on this ground was played against West Indies in 1975 and the first ODI in 1987.
3. This stadium stands named after legendary players such as Sunil Gavaskar, Sachin Tendulkar, etc.
4. India won the World Cup 2011 against Sri Lanka on this ground which holds a great memory for everyone.
5. Sachin Tendulkar's last match, a test match against West Indies was played in this stadium. It holds the memory of a great batsman's farewell to remember.
Story of Wankhede Stadium:
Just like the stadium it has a pretty good backstory too.
In the early days, the CCI (Cricket Club of India) owned the Brabourne stadium and has in continuous disputes with the Bombay Cricket Association for allocation of tickets and to arrange matches.
Things get too much for the 1973 India vs England test match. So, S.K. Wankhede a politician and secretary on BCA decide to build a new stadium not too far from Brabourne stadium. Its work done in six months and opened for India vs England test match in 1975.
Because of S.K. Wankhede's efforts we get to see this stadium and the stadium also become the part of some great events.
Memorable moments happen in Wankhede Stadium:
10 Jan 1985 before Yuvraj Singh, Ravi Shastri hit the 6 sixes in an over.
17 Jan 1987 first ODI against Sr Lanka and won by 10 runs.
5 Nov 1987 The last match of Sunil Gavaskar and also the match against Pakistan for the semi-finals but lost.
22 Feb 1993 Vinod Kambli scored 224 runs in a test match against England.
27 Feb 1996 we get to saw Mark Waugh who became the first man to score consecutive centuries in World Cup but in the same match, Sachin Tendulkar also shows his batting skills but still, India lost the match.
17 Oct 2007 the last ODI before the renovation of the stadium where left-arm spinner Murali Kartik made a record of 6/27 and gives India the chance for victory.
2 Apr 2011 India won the World Cup.
16 Nov 2013 test match for the retirement of Master-Blaster Sachin Tendulkar was played.
So, that's all now you know many things about the Wankhede Stadium. If you like reading this then you can comment below if you have any doubt or question feel free to ask in comments I will reply as soon as I can.
Donn't just read alone share it with your friends or family so they can also read about it.
That's all folks, we'll meet again. Till then…
—Dhanyavaad—
If you wants to know basics about primary and pre-primary section then you can visit – smartschool.infolips.com