Best Sports Moments of India before Independence
I know, I know I am late for this but still, you can enjoy reading about it. So here are some Best Sports Moments of India before Independence.
India's Debut in Olympics (1900)
The 1900 Paris Olympics became India's first step to participating in Olympic sports. All this happened because of the amazing performance by Norman Gilbert Pritchard, a British-Indian Athlete.
He participated in five track and field sports and won silver in them like shining for his country abroad.
He won Silver in 200m sprint and 200m hurdle events. With this, he became the first Asian-born athlete to win Olympic medals and that initiated the quest for Olympic medals in India.
Gama the Great Showed his Strength and his Heart (1910)
Most of you might not know but India also had a great wrestler who crushed anyone who comes in his path. Ghulam Mohammad Baksh was his name but he was widely known as the Great Gama.
Another crazy fact is that even Bruce Lee was inspired by Great Gama and he also used to follow Gama's rigorous training regimen in his own training.
Gama was the winner of the John Bull World Championship after a fierce wrestling match held in Sept 1910 against Stanislaus Zbyszko (Polish Wrestler).
He was also remembered for his big heart because, during the partition phase of India and Pakistan, he saved his Hindu brothers from the attacks and helped them to leave for India with sobbing eyes because he would never get to see them again. (Sad…)
Mohun Bagan Football Club's – The Immortal Eleven (1911)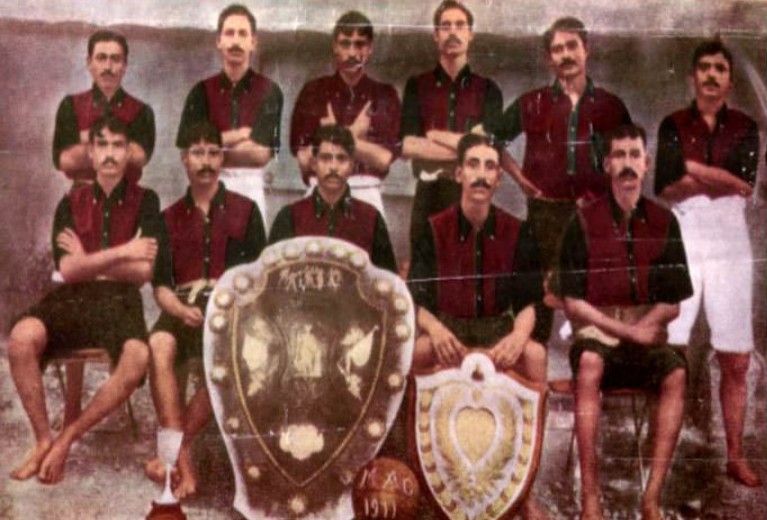 Although India has a different crazy for cricket but in the history of Indian sports before independence football had a special place in people's hearts.
All this happened because of the unforgettable victory of barefoot Bengali boys of Mohun Bagan in 1911.
They defeated a well-equipped team Eastern Yorkshire Regiment at the final and won the IFA Shield Tournament with a score of 2-1.
This made them the first Indian football club to do it that's why they were entitled "The Immortal Eleven".
India's Marathon Man Phadeppa Chaugule (1920)
Phadeppa Dareppa Chaugule was among the troops sent for the 1920 Antwerp Olympics in which he came at 19th position in the Olympic Marathon in 2:50:45.2s.
This was a great performance and he became the first Indian to ever compete in the prestigious marathon.
Phadeppa's effort became a light for Indian athletes who were dreaming big and wanted to try hard. He was entitled the "Conqueror of the Winds" by the local community.
National Hockey Team's Golden Hat-Trick (1928)
In the great era of Major Dhyanchand also called "Hockey Wizard" our National Hockey team won three consecutive gold medals in the 1928, 1932, and 1936 Olympic Games.
This team had a 30-0 winning streak until 1960 and they were also the first non-European team to be a part of the International Hockey Federation.
East Bengal Football Club's Emblem Journey (1930)
In the mid-90s, the Calcutta Football League was declared in favor of the Royal Regiment in the first division.
But East Bengal was not promoted to that rank. Because of this many fans and officials protested against this with Mashals on the field.
This event gave the idea to the officials and they made the Mashal as the club's emblem. Isn't it a great backstory for an emblem.
It is still intact and didn't change to remind us about the historic protest.
The Debut of Indian Test Cricket (1932)
India came to know about cricket from European sailors in the 18th century. But on 25th June 1932 something big happened. India had its first test match at the Lord's Stadium and became the sixth country to do it.
Although they were not able to win the trophy they lifted the team India's name in International Cricket.
These were the 7 Great Sports Moments of India before independence
there might be even more so I will try to find even more facts about sports so stay tuned for it.
Even though I am late still HAPPY INDEPENDENCE DAY to everyone!!!
So, I guess that's all for today. If you enjoy reading it, then comment below and leave your suggestions and any other topics I should write about in the comments.
Don't just read alone share it with others in this way everybody will enjoy it. I will be back soon with another game or related info. Till then…
—Dhanyavaad—
If you want to know about the basics of the primary and pre-primary section then you can visit – smartschool.infolips.com
Tags: Best Sports Moments of India before Independence, 7 Great Sports Moments of India pre-independence, sports and games played in india before independence, India's Debut in Olympics 1900, Debut of india in Olympic games 1900, Gama the Great Showed his Strength and his Heart 1910, Gama won the John Bull World Championship 1910, Mohun Bagan Football Club's – The Immortal Eleven 1911, The Immortal Eleven of India, Mohun Bagan FC won the championship 1911, India's Marathon Man Phadeppa Chaugule 1920, National Hockey Team's Golden Hat-Trick 1928, Golden hat-trick of Indian National hockey team 1928, East Bengal Football Club's Emblem Journey 1930, How East Bengal Football Club's Emblem was created, Debut of Indian team in the Test Cricket 1932,
history of indian sports and games, identify the place and year when india participated in olympic games for the first time, in which year the national games of india was first held in Bangalore, independence game, india and sports, india in games, indian and international sports, indian games and sports, nation at play a history of sport in India, national games and sports of some countries, sports and games history, sports and games played in india before independence information, sports and games played in india before independence timeline, traditional sports and games of India, traditional sports and games in India, where did india play first international match