An anime about high school volleyball (Haikyuu!! anime)
From today we are adding a new section to our blogs that are anime, movies, and shows related to sports, and here's An anime about high school volleyball (Haikyuu!! anime)
Today's anime related to sports is Haikyuu!!, one of the most popular sports anime of all time. It has great animation emotions and over-the-top volleyball action. Even if you are not a volleyball fan then this anime will make you one for sure. It starts with all the basics of volleyball so everyone can understand.
Basic Details of Haikyuu Anime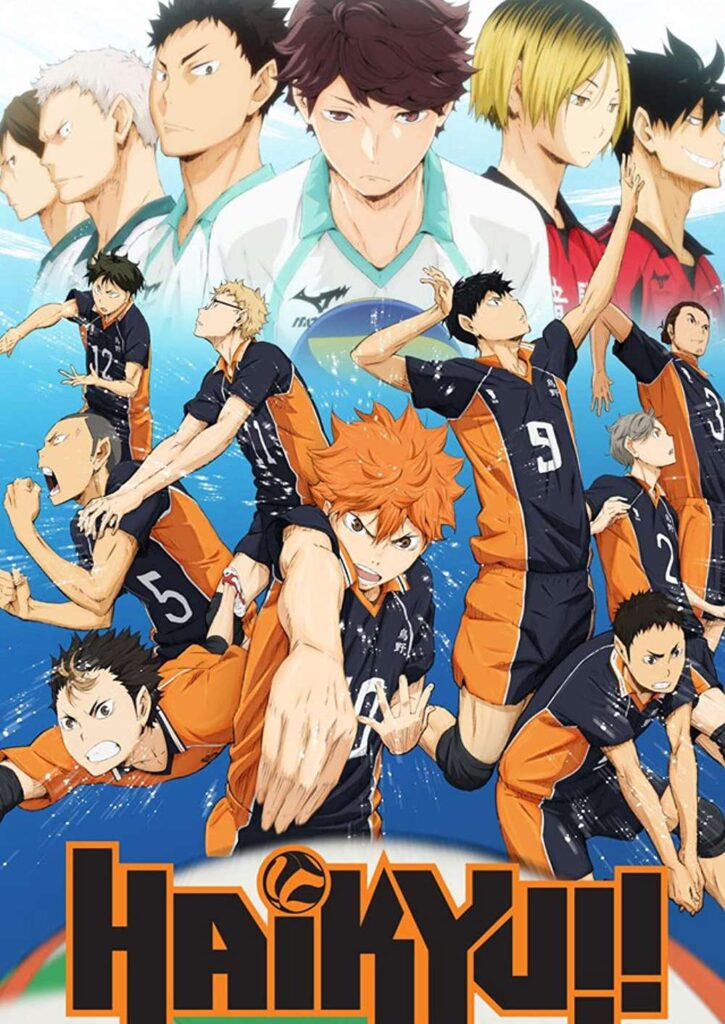 Name of Anime: Haikyuu!!
Genre: Shonen, Sports, Comedy
Writer and Illustrator: Haruichi Furudate
Animation Studio: Production I.G
Total Seasons: 4 seasons (Total 73 Episodes)
Running: Last air in 2020
Basic Premise/Plot of Haikyuu Anime
The main character Hinata Shoyo gets inspired and wants to become the next "Little Giant".
Many people tell him to switch to any other game because of his small height and volleyball is a game where height matters.
But he followed where he wants and joins the Karasuno Highschool there he meets other players and also his arch-enemy Kageyama Tobio in that same high school. The chemistry between these two and the whole team will make you laugh and cry.
This is not just a story of a single-player but the entire team comes together to reach the top that's the main goal of the anime.
This anime is a roller-coaster of emotions, action, drama, and fun elements which feels like a complete package.
You will feel for every team who wins and who loses that's the power of this anime and each team has its own motto. If you look at each team's banner it will tell you a lot about that team's thinking and motivation.
Animation of Haikyuu Anime
Even if any anime has a simple story, then also a good animation can make that anime great. Even if the above premise looks simple to you but is deep and that is perfectly shown by the animation.
The emotion, the tension, the action of the game the spikes, blocks, receives, and the look on the face of players when cornered.
It might get inconsistent at some scenes but at the time of the match, it won't disappoint you that's for sure.
 It might feel a bit unrealistic sometimes but it is near to real life.
Chronological Watch Order
Haikyuu!! Season 1 (25 Episodes)
OVA 2 Haikyuu!!: Lev Genzan!/Haikyuu!!: The Arrival of Haiba Lev!
Haikyuu!! Season 2 (25 Episodes)
Haikyuu!! Season 3 (Haikyuu!!: Karasuno Koukou vs. Shiratorizawa Gakuen Koukou)(10 Episodes)
OVA 5 (Haikyuu!!: Riku vs. Kuu/Haikyuu!!: Land vs Sky)
Haikyuu!! Season 4: To the Top (13 Episodes)
Haikyuu!! Season 4: To the Top 2nd Season (12 Episodes)
Achievements of Haikyuu Anime
Crunchyroll Anime Awards (2021)
Anime Award [Winner]
Best Boy
Anime Award [Nominee]
Best Protagonist
Anime Award [Nominee]
Best Opening
IGN Summer Movie Awards (2016)
IGN Award [Nominee]
Best Anime Series
My Thoughts
I enjoyed this anime a lot, it makes me laugh it makes me cry it was a great watch for me.
All the characters, animations, background music, and the intensity of each match makes your heart racing and that's what makes it exciting.
You will feel for every player in this anime. Being simplistic at other times and getting intense at the moment of volleyball matches is a great strength of this anime.
Before watching this, I have no idea about how the game was played and all but now I watch many matches, and when you know about something you watch and try to understand with more interest.
I hope you liked the recommendation!!!
So, I guess that's all for today. If you enjoy reading it, comment below and leave your suggestions and any other topics that I should write about.
Don't just read alone share it with others in this way everybody will enjoy it. I will be back soon with another game or related info. Till then…
—Dhanyavaad—
If you want to know the basics about the primary and pre-primary sections with grammar and all then you can visit – smartschool.infolips.com
Tags: An anime about high school volleyball (Haikyuu!! anime), about haikyuu anime adaptation, about haikyuu anime all episodes, about haikyuu anime all seasons, about haikyuu anime for beginners, about haikyuu anime in order, haikyuu anime recommendations, about haikyuu anime series, all about haikyuu, anime on volleyball, haikyuu all seasons in order, haikyuu anime story, haikyuu is the best anime, is haikyuu anime worth watching, is haikyuu famous, is haikyuu shounen anime, sports anime like haikyuu, volleyball anime haikyuu, volleyball anime series, what is haikyuu about anime, who animated haikyuu, who is the protagonist of haikyuu, achievements of haikyuu anime