Langdi Game and how to play Langdi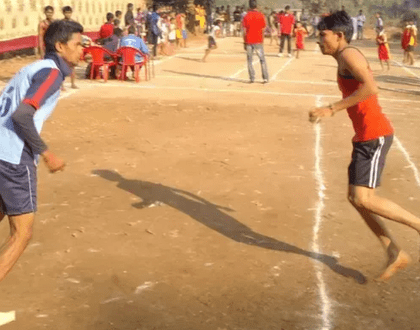 ---
Langdi is a historic (which I don't know) but a cultural Indian sport. It is famous and known by almost all of India.
It is a game where one team tries to run away from the other team's chaser but there's a catch that chaser has to chase them by hopping on only one leg.
Langdi is a game of speed+stamina like kho kho and it can change quickly from any point of the match. That's why t is not as simple as we think it is.
Like any other things Langdi also has various names in different regions:
North Eastern side it is called Kukurazu, Aroni, etc.
In Punjab it is known as Langdi Taang.
In South known as Kuntata.
How to play Langdi
The game is simple to understand where two teams play together from which one decides to run so other team has to chase and as I said above chaser has to chase by hopping on one leg and if he touched his other leg on the ground he will be eliminated.
There will be 4 sessions of almost 10-12 mins where each team gets 2 chances to chase and run and at the end, the team with the highest elimination wins.
Playing Langdi game, image source – quora
Rules of Langdi
1. There will be a team of 15 players but 12 will be playing in each match.
2. The team who wins the toss runs first means other team chases.
3. Chaser has to touch the runners to get points but has to hop on one leg only if he switches or touches the other foot on the ground then he is eliminated.
4. Runners can't go beyond the decided area.
5. the team who manages to get the most points at the end of all the sets wins the game.
My thoughts on Langdi
I was some good in it than any other games frankly speaking. And I still play it with my relatives' children and it makes me happy cause I get to play it again.
In school times I didn't get to play that much but it was good. It is a game of stamina and agility(swiftness).
If you like to read about it then you can comment down below and if you have any suggestions mention them in the comments and share this with anyone who likes to read about it.
So, that is it for today we will meet soon. Till then…
—Dhanyavad—
If you want to know the basics about the primary and pre-primary section then you can visit – smartschool.infolips.com