What is the History of Women's Cricket in India
To be honest whenever we talk about cricket we always or mostly talk about men's cricket even when women's cricket has also grown. So today let's know about What is the History of Women's Cricket in India.
Whenever we discuss anything grand happened in cricket we only talk about men's cricket because there are many people who don't even know that women's cricket is a thing that exists.
And it's fine because I also don't know about everything but I try to at least know something about it.
But problem is that people don't want to look on the other side and it's not just about women's cricket majority have been affected and got overshadowed because of the huge crazy of men's cricket.
Still, Women's cricket has grown much more popular nowadays because of the international world cup matches, T20 Challenge, etc.
– BCCI announced that there will be a Women's T20 league as Women's IPL and six teams. It will be started the next year 2023. That's another big leap for women's cricket. – bold and bg color cause it is like a piece of news. –
Now let's see how it all started.
History of Women's Cricket? How did it start?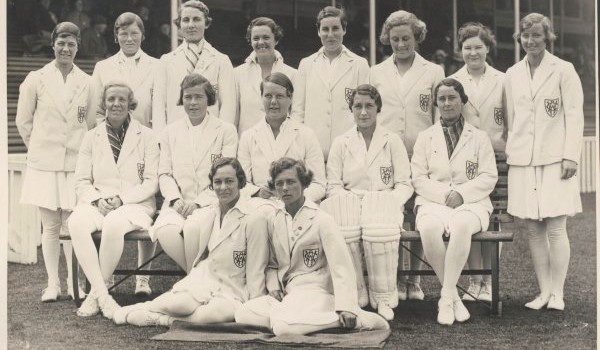 It all started in the year 1934 when Australia and New Zealand's Cricket Board decides to establish female cricket teams. Because of this step, it spread worldwide.
Then happened a three test match series between England's female team against Australia's team and England won two matches.
In the year 1958, the first Women's Cricket Council was formed.
The goal was to connect multiple countries to join it for the betterment of Women's cricket.
Many countries joined in that India and West Indies in 1973, Ireland in 1982, Denmark in 1983, and Pakistan and Sri Lanka in 1997 established their own Women's Cricket Organizations.
History of Indian Women's Cricket?
In April 197the first inter-state Women's Nationals was held in Pune and three teams participated (Bombay, Maharashtra, and Uttar Pradesh).
In the second edition which was held in Varanasi, the number of teams increase to eight.
After this the executive committee was changed then Mrs. Chandra Tripathi took over as Chairperson and Mrs. Pramilabai Chavan took over as the president. These two with the founder secretary Mr. MK Sharma played a major role in the initial development of the Women's cricket scene in India.
Then in 1974 inter-zonal limited-overs tournament was named Rani Jhansi Trophy. Then inter-university tournament was held at Rajkot. U-15 and U19 tournaments were also organized.
The journey toward the World Cricket
After a successful 5 years journey at the domestic level, the rise happened when the Indian women's team played a three-test match series against Australia's U-25 Australia toured India.
After this tour, India played against England, New Zealand, West Indies.
In old days women's used to play in skirts but in modern cricket, their uniform is similar to men's.
The first-ever international match was played against West Indies on 31st Oct 1976 in Bangalore. This test match ended in a draw.
In 1978 team India debuted in ODI cricket and was called Women in Blue. It was a tournament between Australia, England, New Zealand, and India. In this India lost all three matches.
In the same year, WCAI (Women's Cricket Association India) got recognized by IWCC (International Women's Cricket Council) (1978).
After a lot of struggle, India won their first-ever ODI series in the Centenary Celebration of New Zealand Cricket in 1995. It gave a huge morale boost for team India.
Some players like Shanta Rangaswamy, Diana Edulji, Sudha Shah, and Sandhya Agarwal gave significant contributions to this game.
All these four players were awarded the Arjuna Award. It was a great moment.
From not winning a single match in the 1978 World Cup to reaching the finals in 2005 and 2017 was a huge change made by the Indian Women's Cricket team.
Let's cheer them up too because they are also the ones who made our country proud.
Some Facts –
First Century made by a Female Cricketer – Myrtle Maclagan (1935)
First Double Century made by a Female Cricketer – Belinda Clark (1997)
Highest Individual Score by a Female Cricketer – AMCJK Athapaththu (Sri Lanka 178*)
First Century made by Indian Female Cricketer – Thirush Kamini (on 7th March 2006)
Current Women's Teams status (ODI):
Captain – Harmanpreet Kaur
Highest Run Scorer – Mithali Raj
Most Wickets Taker – Jhulan Goswami (achieved a milestone of taking 252 wickets in 192 matches)
So, I guess that's all for today. If you enjoy reading it, then comment below and leave your suggestions and any other topics I should write about in the comments.
Don't just read alone share it with others in this way everybody will enjoy it. I will be back soon with another game or related info. Till then…
—Dhanyavaad—
If you want to know about the basics of the primary and pre-primary section then you can visit – smartschool.infolips.com
Tags: What is the History of Women's Cricket in India, History of Women's Cricket in India and the World, How Women's Cricket got Fame – Women's Cricket History India, australian women's cricket history, best women's cricket player in India, first women's cricket game, first women's cricket match, cricket women's world cup, history of indian women's cricket, history of women's cricket in India, india women's cricket highest individual score, india women's cricket history, india women's cricket records, india women's cricket team world cup history, indian women's cricket highest individual score, indian women's cricket records,
sports women's history in India, when did indian women's cricket start, when did women's cricket start in India, when is women's cricket world cup, when was women's cricket started in India, why women's cricket is not popular, women's cricket highest individual score, women's cricket started, women's cricket world records, women's cricket world cup history, women's test cricket how many days, women's cricket history india best player, best women's cricket player in India, first women's cricket match, how women's cricket got fame famous, how women's cricket got fame famous in India, how women's cricket got fame history, is there women's test cricket, who is the first woman cricketer in India, why women's cricket is not popular in India, women's first cricket match