Horse-riding sports history how many sports are there?
Equestrian Sports are sports that use horses as the main part of the sport. It mainly goes like with a rider riding the horseback so here is the list of Horse-riding sports history how many sports are there?
As for the most common in this type of sport is jumping means jumping over the obstacle and clear a decided course as fast as possible like that.
With this said there are 3 types of horse riding Western, English, and Group. It needs a lot of thinking too like to go with which style, tactics, and which horses to involve in it.
History of Horse-Riding Sports
The evidence of horse games and equestrian has been found in the old cravings of Mohenjo-Daro and Harrapan and we have known that in old times people were battling using horses.
A quick look at the history books reveals that the first equestrian sporting contest dates back to 682 BC with a four-horse chariot race during the 25th Olympiad in Greece.
The Equestrian Federation of India was constituted in 1967.
It has over 1000 members till now which sends new riders to compete in other nations and to spread its influence all over the Asian Continent.
List of Horse-Riding Sports
1. Show Jumping – Horse-riding sports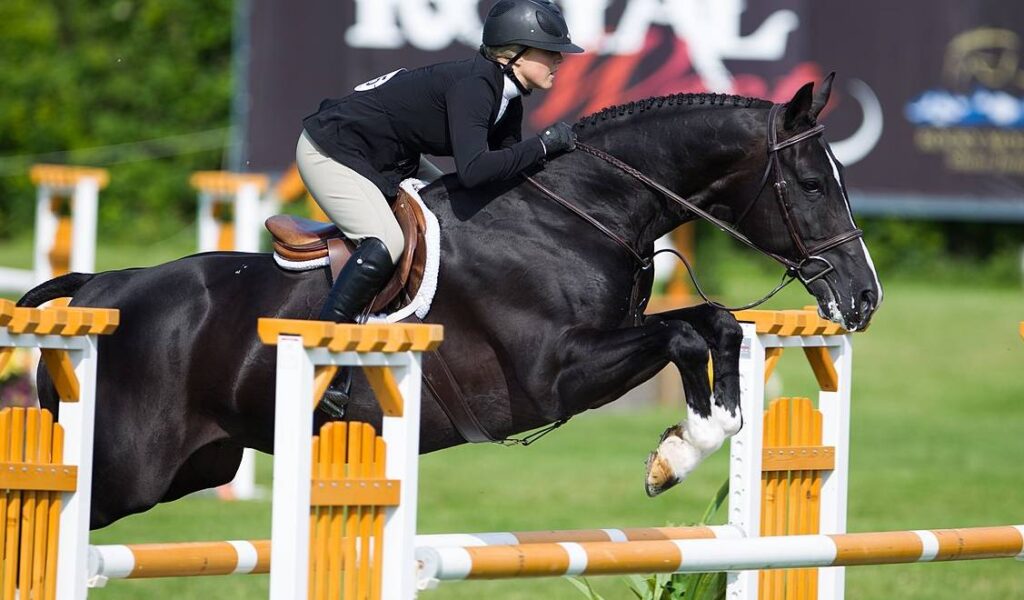 In this rider has to complete an obstacle course that can have double jumps hurdles and many more obstacles.
It is designed to test the horse's agility, speed, focus, and carefulness also judge the riding and how they handle their horse.
The winner is decided by time, the fastest to complete the course and with the fewest faults declared as the winner.
2. Dressage – Horse-riding sports
It is an equestrian sport where horses and their riders perform a series of movements in the arena while being judged against set criteria or movements and give the score out of 10 accordingly.
It is one of the hardest equestrian sports and takes a lot of time to make it perfect with the horse.
3. Horse Polo
Polo is one of the oldest team sports started as a training game for cavalry units in India.
Two teams of 4 riders compete to score as many goals as possible in that 1.5- or 2-hour game with 7-minute periods called chukkas.
Players can use their mallet to block the swing of an opponent or use a bump to move an opponent away from the ball.
4. Horse Racing
It can take place on either a "flat" or "obstacle" ground. Where flat racing is a test of speed, stamina, and the tactics of the jockey (the rider is called jockey).
Mostly horse races are flat grounded but there can be synthetics or all-weather tracks with various categories like classic, group, handicaps, and more.
5. Equestrian Vaulting
It is like gymnastics but on a horseback. I know sounds weird but it is a popular sport in Roman times and recently as a competitive sport.
They can be a group of 3 or just an individual rider performing movements on a horse and it has 2 rounds the compulsory routine and freestyle.
It is to show some of your best movements and to demonstrate beauty, power, and elegance altogether.
6. Reining
Here both rider and the horse need to work together to complete an individual pattern of movements which includes rushing into the small and large circles, quick spin turns and sliding stops between 2-3 minutes to complete.
The panel of judges scores according to each performance based on its smoothness, quickness, and Skills.
7. Barrel Racing
It is also a type of race in which the rider needs to navigate 3 barrels in a pattern (triangular) in the fastest time with minimum penalties to win.
8. Team Chasing
It is a British equestrian sport between 2 two teams of four players each over a cross-country course.
It feels similar to an old-fashioned hunter trail but over open countryside and natural obstacles like hedges.
TH winners are the team that completes the course clearly in the fastest time.
Entry of Horse-Riding Games in Olympics
Equestrianism made its Summer Olympics debut at the 1900 Summer Olympics in Paris, France. It did not return until 1912 but has been featured at every Summer Olympic Games since.
The current Olympic equestrian disciplines are Dressage, Eventing, and Jumping.
List of Horse-Riding Sports in Olympics:
-Dressage
~Jumping
-Vaulting
~Horse Racing
-Team chasing
My thoughts
It feels great to watch these types of sports too, it shows that human bonds with animals and not just every time tries to hurt them.
They are not just about riding but working together to perform which is the fascinating part.
So, I guess that's all for today. If you enjoy reading it then comment down below and leave you suggestions and any other topics that I should write about in the comments.
Don't just read alone share it with others in this way everybody will enjoy it. I will be back soon with another game or related info. Till then…
—Dhanyavaad—
If you want to know the basics about the primary and pre-primary sections with grammar and all then you can visit – smartschool.infolips.com
Tags – Horse-riding sports history how many sports are there? what type of sport is horse riding, what is sport horse riding,
what equestrian sports are in the olympics, sports similar to horse riding, list of horse riding sports, List of Horse-riding Sports History and more, my favourite sport horse riding,
is horse riding one of the hardest sports, how many horse sports are there, how many horse riding sports are there, english horse riding sports,
equestrian sports riding horse, entry of horse-riding games in olympics list, entry of horse-riding games in olympics of India, history of horse riding sports and games, list of horse riding games in olympics