Top 10 Moments in IPL 2023 from Match 01 – 20
As the new season of IPL has begun so does I am here to show you the Top 10 Moments in IPL 2023 from Match 01 – 20
If you read the previous year's post about the best IPL moments then it is like that only. With the new season of IPL, another year of the Top 10 Moments in IPL 2023.
Ruturaj Gaiwad's sensational inning 92
Gaikwad leads the Indian Premier League 2023 batting charts with twin fifties in two IPL 2023 matches. After scoring 92 against Gujarat Titans in the season opener, Ruturaj smashed 57 off 31 balls in a winning cause against Lucknow Super Giants. He smashed 4 fours and 9 sixes. It was like raining sixes in the very first match of IPL 2023.
An Inning to be remembered!!!
Faf Du Plessis and Virat Kohli's 148 runs opening partnership
Kohli and Du Plessis stitched a match-winning 148-run opening partnership giving an impressive head start to RCB against Mumbai Indians in the IPL 2023. This duo smashed the MI bowlers to give RCB a dream start.
Virat Kohli scored 82 runs and Faf also made 73 so can't say that it was a solo play but Virat Kohli was in the striking zone that day.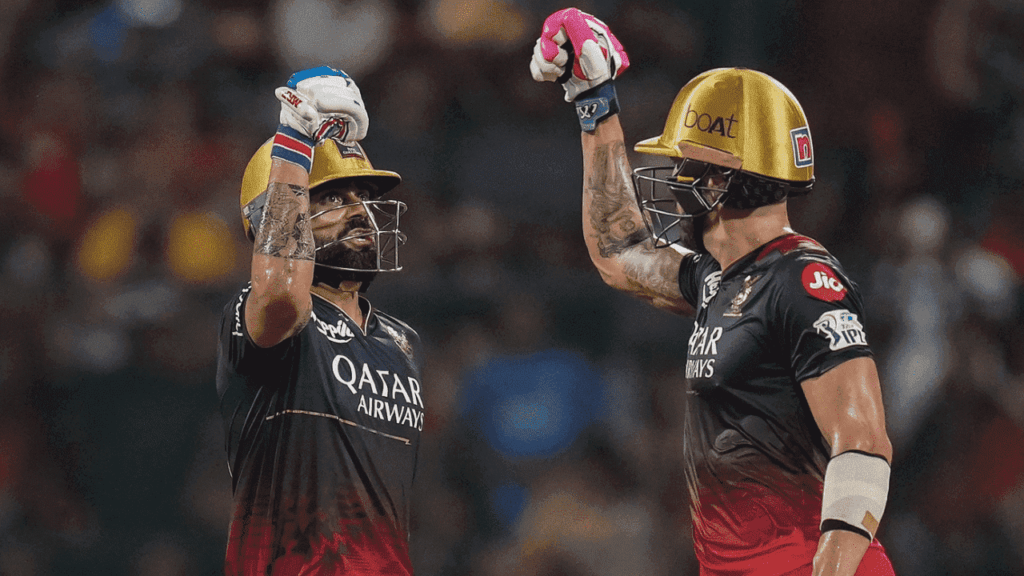 Shardul Thakur's Explosive 50 against RCB at Eden Gardens
Shardul Thakur came on the field in a pinch situation but made his name with an explosive inning of 68 runs in 29 balls with 9 fours and 3 sixes. He brought up his maiden IPL half-century in just 20 balls which consisted of 6 fours and 3 sixes and became the match-changer for KKR to take the total over 200 runs.
KKR spinners destroyed RCB's Batting Lineup
After the smashing batting to reach a 200+ score on the board by KKR, they got ready to defend that total against RCB.
RCB got a good start with Virat and Faf du Plessis but suddenly KKR's spinners started to take down the batting lineup.
Starting with Sunil Narine took the first wicket in the form of Virat Kohli then Varun Chakravarthy took Faf out of commission and then RCB's batting lineup just crumbled in front of the spinners.
Varun Chakravarthy took 4 wickets (4/15), Suyash Sharma the youngster took 3 wickets (3/30), Sunil Narine took 2 wickets (2/16) and also Shardul Thakur got 1 wicket of Shabaz. With all that RCB's chase just stopped at 123 runs.
Ajinkya Rahane's fastest fifty in IPL 2023
After being silent for so long Rahane's bat finally roared and roared in a big way. What an inning it was to watch. He made his fastest IPL Fifty in just 19 balls and totally scored 61 runs in 27 balls in which he hit 7 fours and 3 sixes. A powerful inning to bring victory for CSK.
Rashid Khan Delivers a Hat-Trick against KKR
We already know how good he is and an integral part of GT, and in the match against KKR he showed why. In the time when KKr was showing intent for the comeback and Russell was on strike when the cards started falling against Rashid.
3 balls, 3 wickets, first Russell then Sunil Narine, and finally Shardul Thakur who played an explosive inning which I mentioned before. It was a wonderful spell by him.
Riku Singh the Finisher Turned Tables against GT
When all hopes were down for the KKR fans a savior came and took the team to their victory. Rinku's 48 runs in 21 balls included 5 consecutive sixes in the last over of the match which helped KKR beat GT. What a climax it was for this wonderful match. Just Amazing!!!
Shikhar Dhawan played a Captain's Inning (99* in 66)
In this match against SRH, there was no player from SRH who managed to score any runs but their captain Shikhar Dhawan was playing and scoring from the first over till the last ball.
On one side the wickets were falling consistently but on the other side, Dhawan did not stop scoring runs. He played an amazing inning of 99* runs in 66 balls with 12 fours and 5 sixes. Just missed his century by 1 run but played an inning like the captain.
(Also what a unique number he got 99 in 66. Did you notice it?)
RCB's Explosive Batting Faf du Plessis Virat Kohli and Glenn Maxwell
After the huge partnership in the first match, it continued in this match too. Started with Virat Kohli's 61 runs in 44 balls with 4 fours and 4 sixes followed by Faf du Plessis scoring 79* in 46 balls with 5 fours and 5 sixes and later on a smashing inning of Glenn Maxwell who scored 59 runs in 29 balls with 3 fours and 6 sixes. All these took their team's score to 212/2.
Nicholas Pooran scored the Fastest Fifty of IPL 2023
Nicholas Pooran became to score the fastest fifty of the IPL 2023 to help Lucknow Super Giants pull off a nail-biting one-wicket win against RCB.
He scored 62 runs in 19 balls 4 fours and 7 sixes from which he scored his 50 in 15 balls which made him the second fastest after KL Rahul and Pat Cummins which made it happen in 14 balls.
Berendoff decimates DC's Batting lineup in 19th Over
When Delhi Capitals were getting back on track when Axar smashed his first Fifty but then in the 19th over Jason Behrendorff took 3 wickets. First Axar Patel then David Warner and then a run out of Kuldeep Yadav and at the end of the over Abhishek Porel too. (4 wickets – 3 Behrendoff and 1 run out)
Harry Brook's Scored the First Century of IPL 2023
Harry Brook scored the first century of the IPL 2023 against Kolkata Knight Riders at Eden Gardens. He scored 100* in 55 balls with 12 fours and 3 sixes. An amazing inning that took over 200 runs (228/4).
–
If you enjoy reading it, comment below and leave your suggestions and any other topics that I should write about in the comments. Don't just read alone share it with others in this way everybody will enjoy it. I will be back soon with another game or related info. Till then…
—DHANYAVAAD—
If you are not into sports but gaming, you can check out my other blog site – GAMEREX.FALLINSPORTS
For information Regarding Education and Studies, you can check out – smartschool.infolips.com
Top 10 Moments in IPL 2023 from Match 01 – 20
Top 10 Moments in IPL 2023 from Match 01 – 20, Top 10 Moments in IPL 2023 from Match 01 – 20
moments in ipl 2023 gujarat, moments in ipl 2023 first match, moments in ipl 2023 in Mumbai, moments in ipl 2023 hyderabad, moments in ipl 2023 history, moments in ipl 2023 highlights, moments in ipl 2023 last match, moments in ipl 2023 list, moments in ipl 2023 matches, moments in ipl 2023 Mumbai, moments in ipl 2023 news, moments in ipl 2023 players list, moments in ipl 2023 virat kohli