Hello their boys and girls and with that said FIFA World Cup is back again which every football fan awaits. So here are the Top 10 Favourite Players for FIFA World Cup 2022.
These will be the list of some known players yet some new generation players who wants to make name for themselves at FIFA World CUP this year. As FIFA World Cup is just few days of wait (from 20th November 2022) so it will be a great thing to discuss some favorites don't you think? So, let's jump into it.
(This is not a Ranking so don't get all over me MAD just because I list your player below someone and this is not my personal list. To be honest I never really followed FIFA till now but this year I will definitely follow it till the end.)
Kylian Mbappe
Country: France
Position: Forward
Age: 23
Mbappe was superb for France as Didier Deschamps' side sealed the world title in 2018, but the PSG star has moved to another level in the last two seasons and should be one of the standout performers for the defending champions.
Kylian Mbappe is currently one of the best players in the world at the age of just 23, he is ready to continue on this play for many years forward.
Lionel Messi
Country: Argentina
Position: Forward
Age: 35
Talk of Messi's as not just one of the best soccer players to ever take the field, with the mercurial Argentine demonstrating his talents in a deeper role at PSG. All eyes will be on him as he looks to finally add a World Cup to his glittering list of individual and team. With that he has already confirmed that this will be his last World Cup appearance.
Kevin De Bruyne
Country: Belgium
Position: Midfielder
Age: 31
De Bruyne will be charged with the task of finally helping Belgium to lose their 'nearly men' tag in Qatar, with a star-studded line-up having consistently underperformed in previous tournaments. However, the Manchester City man will be determined to prove himself as the No.1 midfielder in world football.
Cristiano Ronaldo
Country: Portugal
Position: Forward
Age: 37
Despite a troubled time at Manchester United, expectation will still be intense around Ronaldo in Qatar, as he competes in a record-equaling fifth finals. Portugal had to do things the hard way via the playoffs in qualification.
They eventually beat North Macedonia to secure their place at the tournament and the 2016 European champions will look once again to Ronaldo's ability to lead their attack to score.
Vinicius Jr.
Country: Brazil
Position: Winger
Age: 22
Despite the pressure of establishing himself as a key player for both Real Madrid and Brazil in the last two years, Vinicius Jr. has risen to that challenge. His partnership with Karim Benzema in Madrid is the deadliest pairing in Spanish football, and his world-class potential could see him become one of the star names of Qatar 2022.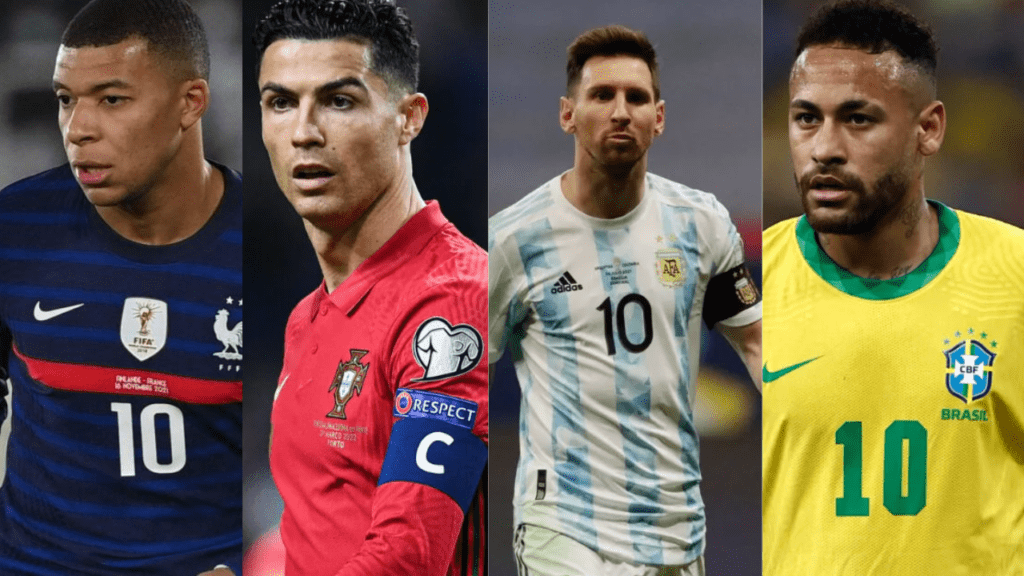 Takefusa Kubo
Country: Japan
Position: Winger
Age: 21
Takefusa Kubo (age 21) has already made quite the name for himself also named as 'wonderkid' in La Liga. He first played with Barcelona and then at Real Madrid. This Japanese midfielder moved to Real Sociedad in the summer transfer window this year and is consistently showing his potential and he will likely be a key player for the Blue Samurai and could give them a breakthrough in this tournament.
Virgil van Dijk
Country: Netherlands
Position: Centre Back
Age: 31
Despite playing the consistent role of Liverpool's defensive rock, Van Dijk has never featured at a World Cup with his country.
The Dutch are much stronger at the back and in midfield than they have been in recent years, and similarly to Premier League rival De Bruyne, Van Dijk will be aiming to be one of the best players in his position in the world football.
Neymar
Country: Brazil
Position: Forward
Age: 30
This Brazilian player continues to shoulder the burden of his country's hopes on the biggest stage, the World Cup at Qatar 2022.
Neymar has failed to match the heights he might have expected with PSG in recent times, and injuries have not helped, but he remains the center of the attack for the 2021 Copa America beaten finalists.
Pedri
Country: Spain
Position: Center Midfielder
Age: 19
Pedri is the latest midfielder for the Spanish team and there are suggestions around the Camp Nou that Pedri could one day exceed his Barcelona predecessors and he will be looking to build on a fantastic breakthrough showing at Euro 2020.
Karim Benzema
Country: France
Position: Striker
Age: 34
Deschamps' decision to recall Benzema for Euro 2020 was met with a mixed public response in France, as Les Bleus bowed out of the competition at the Round of 16. However, the veteran forward has reminded everyone of his big-game talents in 2021/22, not least in the Champions League, and he remains one of the deadliest finishers on the field of football.
What do you think about these players let me know in the comments below.
Quick News: Mukesh Ambani is in the race to buy Liverpool football club
Indian businessman Mukesh Ambani is reviving his interest in buying Liverpool, 12 years after a failed takeover bid.
Ambani and fellow Indian tycoon Subrata Roy were lining up a bid to purchase 51 per cent of the club's stake from former owners Tom Hicks and George Gillett.
Ambani currently owns IPL cricket giants Mumbai Indians and also played a key role in setting up the Super League in his home country. He is also the chairman and managing director of Reliance Industries while maintaining a keen interest in sport.
–
So, I guess that's all for today. It was something different than usual so look forward to some different facts about sports in the future. If you enjoy reading it then comment down below and leave your suggestions and any other topics that I should write about in the comments.
Don't just read alone share it with others in this way everybody will enjoy it. I will be back soon with another game or related info. Till then…
—DHANYAVAAD—
IF YOU ARE NOT INTO SPORTS BUT INTO GAMING THEN YOU CAN CHECK OUT MY OTHER BLOG SITE – GAMEREX.FALLINSPORTS