RCB on the top of points table IPL 2021
IPL gives us many such moments which are never imagined by anybody. But in IPL 2021 such a thing happens and that is Royal Challengers Bangalore on the top of the points table and not just top but won both of their matches which is impressive.
Even though you might think that I am trolling but no it's a genuine reaction of mine. And Many RCB fans would be feeling proud that their time to shine has come.
If this year RCB manages to get in the playoffs then all the fans will just go crazy.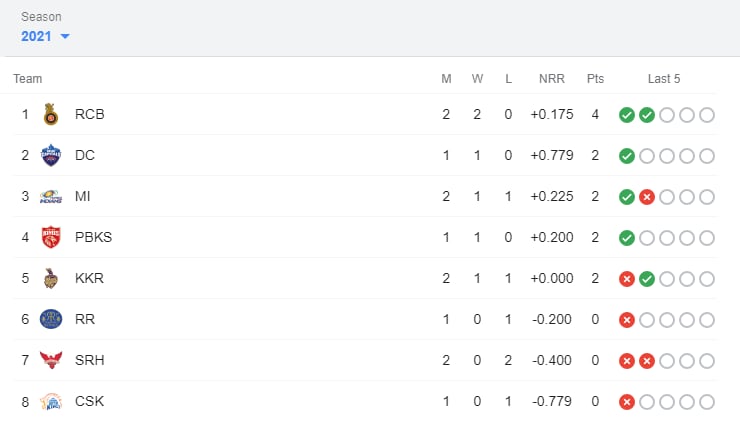 Even many memes were made over this and all RCB fans are waiting for that moment and I hope they get their wish.
So that's about my personal opinion and now about both matches won by Royal Challengers Bangalore (RCB).
IPL can never be predicted cause sudden runs and wickets can change the entire flow of the match.
RCB vs MI IPL 2021, Match 1
IPL 2021 first match was one of the best matches cause both teams struggle for scoring runs and both bowling lineups were trying to sop the opposite teams batting lineup.
So first RCB won the toss and elect to field. Opening pair Rohit Sharma and Chris Lynn for MI. In a few overs, the MI captain goes run out by RCB captain Virat Kohli.
Then Chris Lynn and Suryakumar Yadav advance the team by scoring runs. But MI batting lineup keeps on falling in front of RCB bowling attack and ends up at a score of 159/9.
In which Harshal Patel got 5 wickets which was a great moment for him and his team in the beginning of IPL.
Then RCB has to achieve the target of 160 runs to win. Opening pair for RCB Virat Kohli and Washington Sundar.
Then Virat Kohli had a good start with Glenn Maxwell on the field but got taken out by Jasprit Bumrah. Then at 5th AB De Villers start scoring for their team and put an end to the MI bowling streak.
And because of Virat Kohli, Glenn Maxwell, and AB De Villers RCB was able to reach the target and won their first match by 2 wickets.
Man, this was an interesting match.
RCB vs SRH IPL 2021, Match 6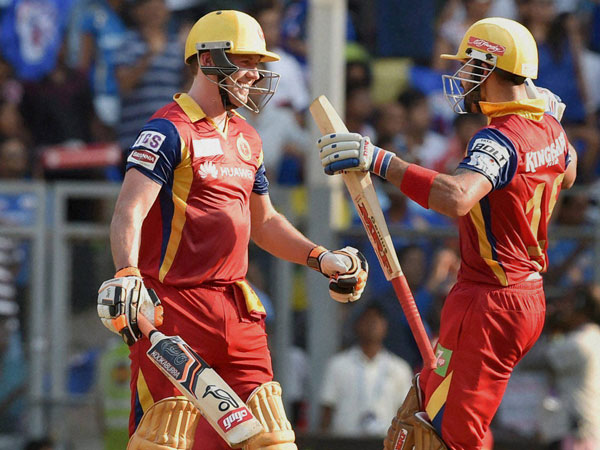 This match was also like RCB vs MI cause both teams struggled to score runs against opponents' bowling.
SRH won the toss and elect to field first. Opening for RCB Virat Kohli and Devdutt Padikkal. And Virat Kohli again starts with a good score but taken out by Jason Holder.
But then Glenn Maxwell shows why he is a power hitter and scores a half-century and takes the team to a defendable score of 149/8.
Then SRH came to reach the target with Wriddhiman Saha and David Warner. But Saha got his wicket taken too early.
Then David Warner and Manish Pandey keep scoring and build a great partnership. But then Shahbaz Ahmed balled his magical over and take 3 wickets by giving just 1 run.
Then falling of SRH batting line-up keeps ongoing. David Warner did a great job for his team but in the end, they lost and RCB win the match by 6 runs. Now that's a close one we say.
So that's it for today if you like it then leave a comment below and you can suggest anything if you want to also in the comments. Till then…
—Dhanyavaad—
If you want to know the basics about the primary and pre-primary section then you can visit – smartschool.infolips.com