Running is one of the most common sports all over the world and with that, there are multiple variations and types of races. So, let's check out the List of Running Sports like Sprint Marathon and More.
List of Different Types of Races:
1. Sprint Race
2. Middle Distance
3. Endurance Running
4. Marathon
5. Ultramarathon
6. Cross Country Running
7. Trail Running
8. Sky Running
9. Hurdle Race
10. Ekiden
11. Joggling
12. Tower Running
13. Aqua Jogging
14. Canicross
15. Race Running
Sprint Races – List of Running Sports like Sprint Marathon and More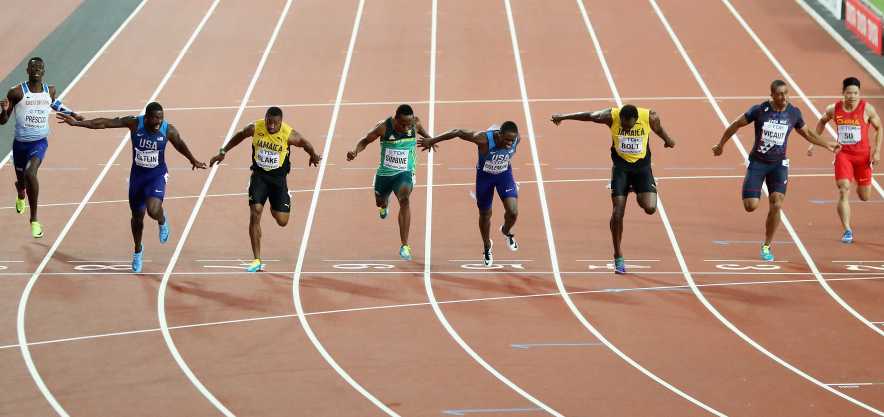 These are fast-paced races where the distance is limited and your speed matters and is played on an oval-shaped track and all athletes run at their maximum speed and try to reach the finish line first.
These races can be of various distances, starting from 50m – 400m. Mainly only three formats are used in Olympic games they are 100m, 200m, and 400m. It can be played individually or in a relay format.
Middle Distance Race
These are longer than sprint races as their distance starts from 800m up to 3km and are mostly played individually in this format, runners can change from their lane to another lane after 100m distance is crossed. It can be done to take the lead or get an advantageous position to win.
Endurance Running
These races are even longer than middle distance races and can range from 3kms up to Marathon and the most common distances for this are 5000km running or 10000kms running and this is not the end yet there are races that are even longer than this. Let's continue…
So, I guess that's all for today. If you enjoy reading it then comment down below and leave your suggestions and any other topics that I should write about in the comments.
Don't just read alone share it with others in this way everybody will enjoy it. I will be back soon with another game or related info. Till then…
—Dhanyavaad—