It is a style of Indian wrestling that we call by different names like 'Pehlwani', 'Dangal', etc. So, here's some more info on Kushti – Indian Wrestling History How to Play Rules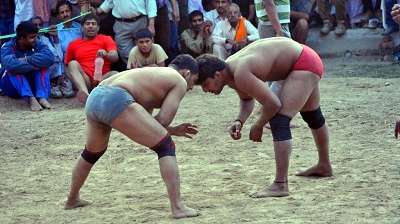 It is traditional and an old sport played on a ground which is called 'Akhada'. This is a place where they learn and compete against each other.
And the person who teaches them is called their trainer or ustad. This is a pretty popular sport not only in India but also in neighboring countries.
History of Kushti – Indian Wrestling
It is a traditional form of Indian wrestling which was established many centuries ago in Persia and to be particular, during the 16th century Mughal Era.
In the late 17th century Ramadasa the "Father of Indian athletics" traveled around the country to encourage people to do physical activity to pay respect to the great god Hanuman.
It is an old sport and still going on bypassing the knowledge of it by our previous generation.
How to play Kushti – Indian Wrestling
It is a game played in an area called Akhada filled with clay or 'Mitti' which represents mother earth and they pay respect to it because this is their training ground, their stadium, and their life is dedicated to it.
Before any game, they put mitti on their bodies and then they begin their Kushti.
It is a game where you have to touch both the shoulders of your opponent on the ground to win. It may sound simple but it is not.
You can't kick or punch your opponent but you can use body locks, throws, submission holds, pins, etc.
There are two most famous techniques which you might have heard. Dhobi Pachad (Shoulder Throw) and the Kasauta (Strangle Pin). In other countries, they use another thing called triangle chokes and all.
My Thoughts
To be honest, I was not into wrestling, I have watched WWE but never watched any Indian-style wrestling match, but while writing about it, I searched and learned how strictly they follow their diet and training. They give their whole life to it practicing for hours and days.
Still, not many of them get any attention. Some of them are having financial issues even though they played for our country which was the saddest thing I read about them.
We must give attention to different sports as they need them more than the sports which are well known by everyone.
So, I guess that's all for today. If you enjoy reading it then comment down below and leave your suggestions and any other topics that I should write about in the comments.
Don't just read alone share it with others in this way everybody will enjoy it. I will be back soon with another game or related info. Till then…
—Dhanyavaad—
Kushti – Indian Wrestling History How to Play Rules, #Kushti #indianwrestling
If you want to know the basics about the primary and pre-primary sections with grammar and all then you can visit – smartschool.infolips.com