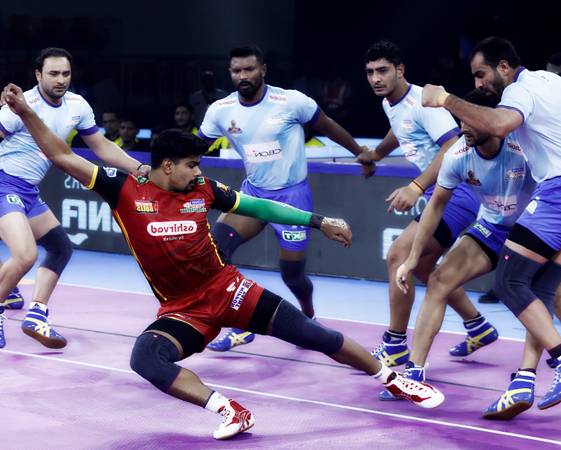 Kabaddi is a sport where one player enters the zone of another team to earn points. With this build-up let's know more about Kabaddi – History Rules How to Play and More.
There are many countries that don't even know that a sport named 'Kabaddi' even exists. And that's true. Kabaddi is not that famous even though in India there is a league for kabaddi yet cricket overtakes it like nothing. And it is the same with me too.
So, let's know more about this sport. It is known by different names in different regions like:
Hadudu (Bangladesh)
Baiblaa (Maldives)
Chedugudu (Andra Pradesh)
Sadugugu (Tamil Nadu)
Hututu (Maharashtra)
History of Kabaddi
This sport originated in India and to be specific in Tamil Nadu. It started as group hunting and defense techniques and later took the first form of this sport.
It might have originated in Tamil Nadu, but the first organized kabaddi match was played in Maharashtra.
From 1920 – 1950 standard rules of Kabaddi were made. As time passed some variations were made but the basic and main objectives remained the same.
Kabaddi is also the national sport of Bangladesh and Nepal.
Kabaddi is played from Local to State to National to International Level.
In 1950 All India Kabaddi Federation (AIKF) was created which gave kabaddi nationwide recognition.
Later in 2004 International Kabaddi Federation (IKF) was formed to take this sport to the global level. Countries like Canada and Germany joined as starting members and later many more were added as time passed.
Kabaddi World Cup
It happened in the years 2004, 2007, and 2016. They were all won by India.
Later in 2019, the biggest Kabaddi World Tournament happened in Malaysia with 32 Men's and 24 Female teams.
Asian Games
In the year 1951 Kabaddi was first played in Asian games as a demo sport but later in 1990 in became a medal sport for the first time.
Indian National Team won all the competitions (Men and Women's) from 2002 to 2014.
In the 2018 Asian Games Iran become the first country to win gold in kabaddi except for India.
Pro Kabaddi League
It was established in the year 2014 on the basis of the Indian Premier League (IPL). It became a great success and got a lot of attention and it was also celebrated like IPL in India.
Almost 435 million viewers watched the first season.
Few extra rules were added which made it more thrilling to watch like Super Tackle – when only two defenders are left and they grabbed the raider to get two points or the Do-or-die Raid – which means if the raider does two empty raids in a row then the on the third raid, that raider must score a points else raider will be out. These additional rules were loved by the audience and this league really spread all over the country and even internationally.
Just like IPL, many foreign players also joined the team via auction, and because of this we also got to see more action from foreign players too.
How to play Kabaddi
It is a contact sport which means two teams play against each other with 7 players on each side.
There are two types of players on each team Raiders and Defenders.
The player who goes on the other side to score a point is called the Raider and the people on the other side who try to stop the Raider are called Defenders.
To score a point the raider must take a breath before entering the other side while chanting 'kabaddi… kabaddi… kabaddi' till the raider reach back to his side of the court.
The raiders need to touch or tag someone from the opposite team and return to his side to get points without breaking the chant or getting caught on the other side.
If the raider breaks the chant or was unable to touch anyone then the raider will be declared out…
So, I guess that's all for today. If you enjoy reading it then comment down below and leave your suggestions and any other topics that I should write about in the comments.
Don't just read alone share it with others in this way everybody will enjoy it. I will be back soon with another game or related info. Till then…
—Dhanyavaad—
If you want to know the basics about the primary and pre-primary sections then you can visit – smartschool.infolips.com