Football needs physical strength and fast reflexes but sometimes this strength forces the players to do fouls which results in them leaving the match. So, here are the top 10 Players with Most Red Cards in Football World.
10. Gary Medel
Country: Chile
Total Red Cards: 18
He is one of the fiercest Chilean football players. This defender is a warrior who does not run away from getting into tackles and duels.
But with this attitude, he also invites a lot of trouble his way as he has racked up 18 red cards in his career and will probably add more to this total.
9. Fernando Amorebieta
Country: Venezuela
Total Red Cards: 19
He is Venezuela's popular player for his no-nonsense approach to football. This center-back received 19 red cards in his playing days and had one of the worst fair play records.
8. Matteo Contini
Country: Italy
Total Red Cards: 20
This defender from Italy is not the disciplinary one that Italy players usually are. The former center-back played for several clubs across the country such as AC Milan. Napoli, Parma, and Real Zaragoza in Spain among many others. While he kept changing teams frequently, there was one common reason for his performances and that was red cards. He collected 20 across his career.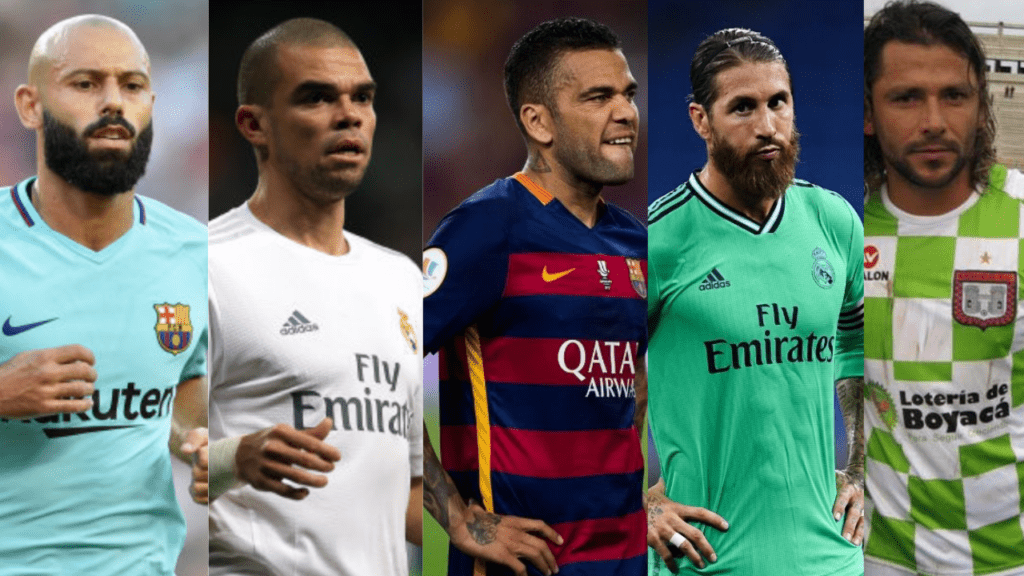 7. Felipe Melo
Country: Brazil
Total Red Cards: 20
Felipe Melo was infamous for his outrage on the field and was nicknamed Pitbull. This Brazilian player racked up 20 red cards in his career. The 39-year-old currently plays for Fluminense in Brazil.
6. Rafael Marquez
Country: Mexico
Total Red Cards: 21
Rafael Marquez is considered a legend in Mexico's football history. Many admire him as the best player ever from the country despite his disciplinary record. This defender was shown the red card 21 times in his career.
Having said that, Marquez had a very successful club football career, winning two UEFA Champions League trophies and four La Liga titles with FC Barcelona.
5. Paolo Montero
Country: Uruguay
Total Red Cards: 21
Paolo Montero of Uruguay is popular for his time with Juventus in Serie A. This 50-year-old guy is currently the manager of the club's U-19 team. He was ferocious as a player and received 21 red cards in his playing days.
4. Alexis Ruano Delgado
Country: Spain
Total Red Cards: 22
Alexis Delgado has 321 La Liga appearances across many clubs. He also played for Besiktas in Turkey and Al Ahli in Saudi Arabia later in his career. This 36-year-old has collected 22 red cards across his career, making him have one of the worst disciplinary records.
3. Cyril Rool
Country: France
Total Red Cards: 27
Cyril Rool was one of those types of players who loved to get in the face of the referee and argue on every second call. He was ruthless in his tackling and sometimes let his emotions get the better of him.
It was no surprise that this French defender received 27 red cards in his playing days.
2. Sergio Ramos
Country: Spain
Total Red Cards: 28
Sergio Ramos is popular for many things, including his leadership on the field, exceptional skills on the ball, and much more. He is also popular for having a short temper and not being afraid to show his emotions.
The former Real Madrid skipper and current Paris Saint-Germain player have over 28 red cards in his career and he might rack up more before his retirement.
1. Gerardo Bedoya
Country: Colombia
Total Red Cards: 46
He holds the record for receiving the greatest number of red cards in the history of football.
He played for the likes of Racing Club, Boca Juniors in Argentina, and many other Colombian clubs. As a coach, he was sent off 21 minutes into his debut.
So these were the players who made this list of Players with the Most Red Cards in their Football Careers.
So, I guess that's all for today. It was something different than usual so look forward to some different facts about sports in the future. If you enjoy reading it then comment down below and leave your suggestions and any other topics that I should write about in the comments.
Don't just read alone share it with others in this way everybody will enjoy it. I will be back soon with another game or related info. Till then…
—DHANYAVAAD—
IF YOU ARE NOT INTO SPORTS BUT INTO GAMING THEN YOU CAN CHECK OUT MY OTHER BLOG SITE – GAMEREX.FALLINSPORTS
10 Players with Most Red Cards in Football World,
Top 10 Players with Most Red Cards in Football World